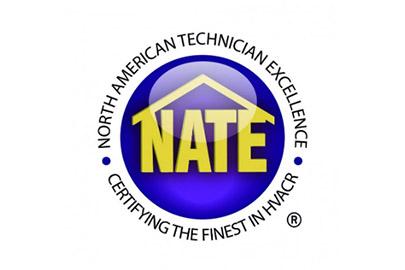 Publish Date
December 20, 2022
North American Technician Excellence (NATE) has announced a forthcoming update to the organization's Heat Pump specialty certification to include decarbonization curriculum supported by the U.S. Department of Energy (DOE). The new topics prepare heating, ventilation, and air conditioning (HVAC) technicians to install high-efficiency heat pumps in all areas of the United States, particularly in homes with existing fossil fuel heating systems. The updated exam requirements reflect the growing heat pump market, propelled by climate initiatives from DOE and other local and federal agencies.
"In order to certify the best technicians in the industry, it is vital that we understand and recognize how industry trends, evolving best practices, and new technical knowledge are affecting our technicians' work. Due to rapidly changing technologies in the HVACR industry, we must continually evaluate our certification standards to remain at the top of the field," explains NATE COO John Lanier. "Pacific Northwest National Laboratory is a leader in sustainable energy technology and innovation. By partnering with PNNL to incorporate decarbonization topics, NATE is ensuring that we are staying ahead of the curve on important environmental changes in our industry."
The decarbonization curriculum, curated by Pacific Northwest National Laboratory (PNNL) for DOE, focuses on subjects required for converting existing fossil fuel systems to electric heat pumps, such as electric panel assessments, dual fuel system control, and cold climate heat pumps. The material also includes high-impact efficiency improvements such as using smart diagnostic tools for more effective HVAC system installation, commissioning, and maintenance.
"Heat pumps are key when it comes to decarbonizing U.S. homes," said Cheryn Metzger, Residential Buildings Energy Efficiency Research Program Manager at PNNL. "Newer, well-proven, variable-speed heat pump technology allows heat pumps to provide high heating capacity at very low temperatures and high efficiency heating and cooling year-round, making heat pumps a viable heating option for nearly all homes in the U.S. Our collaboration with NATE will enable HVAC technicians to provide high-quality heat pump installations in homes that currently have gas, propane, or fuel oil heating so that homes across the U.S. can eventually heat efficiently with clean, renewable electricity."
NATE is the nation's largest non-profit certification organization for heating, ventilation, air conditioning and refrigeration technicians. It expects to release the updated exam in early 2023.  More information on the partnership between NATE and PNNL, as well as NATE's other work, can be found at Nate Magazine - November 2022.