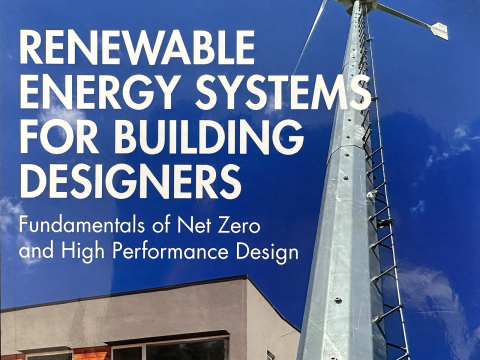 Publish Date
August 23, 2023
Taylor and Francis (T&F) has recently announced the open access chapter: Heat Pumps from the book Renewable Energy Systems for Building Designers by Dorothy Gerring and published by Routledge.
The Engineering division at T&F is collaborating with the U.S. Department of Energy (DOE) to provide a series of open access chapters designed to help facilitate knowledge and growth in the energy efficiency and renewable energy markets relating to building projects. These chapters are to be included in textbooks for undergraduate and graduate level students focused on topics related to sustainable energy production and distribution. This will help both DOE and T&F to reach new audiences and achieve their goals toward a sustainable future with education and information. 
"The Heat Pumps chapter, like the book Renewable Energy Systems for Building Designers, breaks down fundamental concepts in easy-to-understand language with lots of photos and illustrations," said Gerring. "Specific guidelines are given for designing and installing heat pump systems and integrating them into new and retrofit projects. Additionally, this chapter discusses reducing loads so heating and cooling systems can be downsized."
The added Heat Pumps chapter and the book provide an essential foundation for students of architecture, engineering, construction, and building science, while serving as a go-to guide for professionals in the field. They provide a bridge to build knowledge between high school education and hands-on college curricula, as well as important tools for training programs to further professional careers.
Renewable Energy Systems for Building Designers: Fundamentals of Net Zero and High Performance Design is a newly published book providing a single-source guide to renewable energy systems. Broad knowledge is balanced with the details of implementation that are critical for successful innovation and integration of design, performance, and energy production. The Heat Pumps chapter is publicly available at no cost.
###
Dorothy Gerring is a registered architect and an Associate Professor of Architecture and Sustainability at the Pennsylvania College of Technology. She holds certifications for LEED-AP, BD+C and Passive House US Certified Passive House Consultant (CPHC). Taylor & Francis is one of the world's leading publishers and a provider of quality information and knowledge, publishing more than 2,500 journals and over 8,000 new books each year in all areas of Science, Technology, Medicine, Behavioral Sciences, Humanities and Social Sciences.