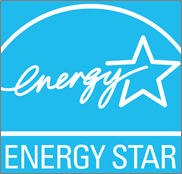 Building Basics
ENERGY STAR Products and Benefits
What?
The ENERGY STAR seal is recognized by the leading green home certification programs. ENERGY STAR-certified homes and apartments are better from the beginning of construction; they are built with the efficient use of energy, water, and building materials. They reflect improved design, offer better durability and comfort, and achieve reduced utility and maintenance costs.

An ENERGY STAR-certified home increases comfort and saves money for occupants, but it also has better resale value. Several studies have shown sale and resale price premiums ranging from 2% to 8% in many markets for ENERGY STAR-certified homes. In a large national study, Freddie Mac economists found a 2.7% average sales price premium for rated energy-efficient single-family homes, with more efficient homes selling for a 3%–5% premium compared to less efficient rated homes (2013–2017).
Why?
Comprehensive air sealing, correctly installed insulation, and high-performance windows work together to increase comfort, improve durability, reduce maintenance costs, and lower monthly utility bills. High-efficiency heating and cooling systems are engineered and installed to deliver more comfort, better moisture control, better indoor air quality, and quieter operation. The best building practices and materials protect roofs, walls, and foundations from water damage, contribute to durability, and prevent moisture-related indoor air quality problems. ENERGY STAR-certified lighting, appliances, and fans in the home help to reduce monthly utility bills and provide high-quality performance.
How?
ENERGY STAR products meet EPA standards and, combined with EPA and other programs and specifications, minimize airborne pollutants and contaminants; use at least 25% less water than average; and achieve homes that are 40%–50% more energy efficient than typical new construction homes.